The most convenient E-invoice in Vietnam
E-invoices are becoming a must-have tool for businesses because of Vietnamese Government Policies.
1. What is E-invoice?
E-invoice is a collection of electronic data messages about the sale of goods and provision of services that are created, made, sent, received, stored and managed by computer. E-invoice is a comprehensive solution for organizations and businesses, helping us to distribute, process and store alternative invoices to paper invoices. E-invoice is created and processed by the organization that has been granted a tax code when selling goods and services. The invoices stored on the computers of the parties according to regulation of Vietnam law on electronic transactions.
E-invoice has two types:
Export invoices, value-added invoices, sales invoices, other invoices including: stamps, tickets, cards, insurance receipts, etc.

Air freight receipts, receipts for international freight charges, receipts for banking service charges, etc.
When using E-invoice, it is necessary to ensure two principles: determine the number of consecutive invoices in certain order and each invoice number is guaranteed to be made and used only once.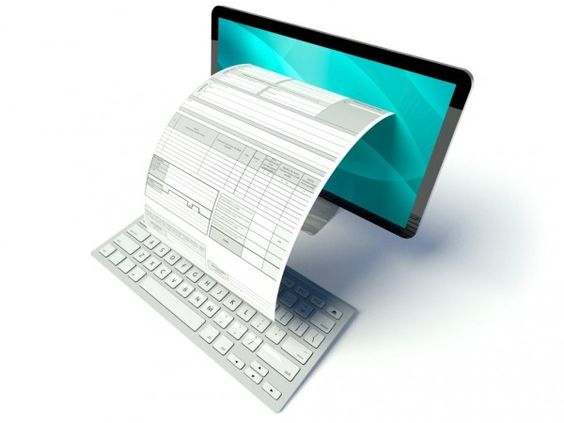 (E-invoice is an "electronic" paper invoice)
2. Advantages of E-invoices compared to paper invoice
In current transactions in Vietnam, paper invoices still prevail over E-invoices due to their familiarity and volume of information that has been stored in the past. But more and more businesses are realizing the benefits of digital transformation. Even Government are forced to change to fit the current need to access a huge amount of information. So what are the advantages of E-invoices compared to paper invoices?
E-invoices helps to save costs when it only needs to be printed on paper in case customers need it, if it is not necessary, E-invoice

still performs its function well in digital format.

Distributing easily through Internet, email in bulk.

Convenient storage and quick lookup thanks to the Cloud application.

Easy to do accounting, data comparing, avoid lost or damaged invoices. Convenient for the tax inspection and simplify the tax finalization for company.
(E-invoices are gradually replacing paper invoice)
3. Utility of Viettel E-invoices
Viettel Group is a Vietnamese multinational telecommunications company headquartered in Hanoi, Vietnam. Viettel is the largest telecommunications service provider in Vietnam. It is a state-owned enterprise and operated by the Ministry of Defence. So Viettel's E-invoices service in particular is guaranteed by Government and has the same legal value as an ordinary invoice.
Viettel's E-invoices has many invoice templates available, easy to choose the form of invoice that fit to your needs.

Customers are granted an account to easily issue and manage invoices. And they always have 24/7 technical support if any problems arise.

Guaranteed infrastructure, stored invoices for up to 10 years and can be easily looked up.

Support businesses to complete necessary procedures with tax authorities.

Integrated digital signature and free use of HSM digital signing device for the first 6 months.
Viettel's E-invoices service is committed to providing a comprehensive solution for businesses with a slogan: Smart, Flexible, Secure and Speedy.
(Viettel's E-invoice)
4. Who needs to use E-invoices?
In October 19th, 2020 Vietnamese Government promulgated Decree 123/2020/NĐ-CP. Specifically, Article 59 of this Decree states that this Decree will take effect from July 1st, 2022, encouraging agencies, organizations and individuals that meet the conditions on information technology infrastructure to apply regulations on E-invoices and documents before July 1st, 2022.
According to the above Decree, enterprises must apply E-invoices to the company's process as soon as possible. Several years lately, Vietnamese Government has accelerated digital conversion to the system. In order to gradually approaching the goal of E-Government, promoting the interaction process between State agencies and enterprises. So to serve the goal, we can see that E-invoices is a must-have tool for businesses to work with Government agencies in the near future.
(E-Government is a goal of Vietnamese Government )
5. To sum up
E-invoices are more convenient in every way and it totally worth it for us to change. Instead of using traditional paper invoices (through purchase, order printing or self-printing), E-invoices apply information management technology directly via computers and Internet. This application helps reduce administrative procedures and makes it easier for businesses to manage and monitor invoices, store them, without worrying about being torn, burned, lost or damaged.
When businesses use E-invoices, errors will be reduced compared to paper invoices. Therefore, the transformation of the above digitization usage form is extremely necessary in the present time.
Chips is a distributor of Viettel. This means that the service implementation is guaranteed by the reputation of Viettel. Also, Chips can possess a good foundation to support customers in a short time. If your business is in need of E-invoice, Chips can always advise you on the best service and support with most reasonable price.
If you still have questions about the Viettrel's E-invoices as well as Viettel's digital signature, please contact Chips for advice via:
Thank you for your interest in Chips's articles, have a nice day
Powered by Froala Editor
Nguồn: Hieu Dinh - Chips.vn